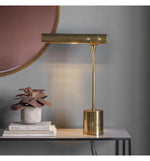 With many more of us working from home more regularly as a result of the global pandemic, making sure that our at-home office environments are set up properly is an absolute must - and, as with any successful interior design project, your lighting scheme has a hugely important part to play in the look and feel of the overall space.
New research from Wren Kitchens, in fact, has just revealed that the way we light our offices could actually have an effect on our productivity levels, so if you have been feeling as though you've not been hitting your targets as easily as you were in the workplace, you may want to review your lighting systems and make a few key changes.
Reported on by FE News, the study found that 31 per cent of people find spotlights to be the best option for working from home, keeping them alert and awake, and boosting concentration. And 30 per cent said that warm lighting was good for destressing, so you may want to invest in a few options like this to help you wind down after you've finished work.
Other top tips for working from home include coming up with a schedule and sticking to it in order to help maintain a good work-life balance. Schedule breaks for yourself and make sure you take them in their entirety.
And make sure that you get out of the house each day as well, as you need to move your body and get fresh air each day - which can easily fall by the wayside if you work from home exclusively.
For designer ceiling lights, check out our UK online store.