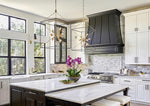 Carefully considered kitchen lighting can utterly transform the look and feel of your space. Don't rely on the trusty old overhead lighting, as with every other room, you should consider a mix of bright task lighting, and warmer, dimmer ambient lighting right from the very start of your design process.
As well as setting the right mood, your lighting can add some significant style points to your kitchen. From going for the hip industrial trend with exposed lightbulbs to applying the rule of three to your island pendants, think of your lighting as an accessory that will enhance the style you're aiming for.
We've picked out our favourite five kitchen lighting design ideas, so you can illuminate your kitchen the right way.
Zone your kitchen with pendant lights
For a larger open plan diner-style kitchen, lighting can be used to designate specific zones. Lighting that gives a warm, subtle glow is ideal for above a dining table, and brighter lighting above your island is best. This will help define the purpose of each area.
Add oomph to a minimal kitchen with a strip of LEDs
LED strip lighting beneath your cabinets is a great way to add interest to a minimal space, as well as providing task lighting for food prep and cooking.
Go 2-in-1 with light-up island hoods
Free up space in your kitchen by combining your island lighting and cooker hood in one. A metallic finish will help bounce light around your room for the illusion of a bigger and brighter space.
Remember the rule of 3
Combining three identical designs above your island like this is a great way to create a stylish centrepiece. Choose a colour that contrasts with your units and let them stand loud and proud.
Be playful with industrial exposed bulbs
Create an industrial warehouse-style to your kitchen by draping exposed bulb pendants above your units, island, or dining table. Either use matching bulbs for a uniform feel or a variety of shapes for an eclectic look.
If you want to buy contemporary and classic lighting in the UK, visit our store today.