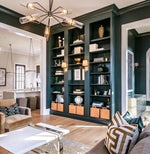 Now that winter's here and we're all going to have to be at home more over the next month or so as a result of lockdown, it's more important now than ever to make sure that our living spaces are welcoming and comforting.
While home furnishings play a hugely important role in creating a cosy atmosphere, it's actually your lighting system that will have the biggest impact in this regard.
You could have the most sumptuous and luxurious sofas, armchairs, rugs and cushions in your living room, but if the overhead lighting is harsh and unfriendly, you're probably not going to want to curl up and spend time in the room all that much.
First of all, give due consideration to your choice of lightbulb and go for something with low Kelvins, as these will give you cosier, warmer light from your lamps. Higher Kelvins will create a brighter environment.
From there, think about the height levels of your lighting and try to create pockets of light in various places around the house, so you can easily find spots to cosy up in. This is best achieved by investing in a floor lamp that casts light downwards, so you have something to serve as an alternative to overhead lights as and when required.
Wall lights and sconces can also be used to great effect as part of a cosy lighting system, so don't forget to think about these either. And, of course, never underestimate the power of candles as a light source, either… go for scented versions to really create a lovely, welcoming atmosphere at home.
Looking for luxury table lamps? See what we have in stock today.