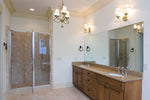 Some of the smartest things to do in life are often the least obvious and might even, initially, seem to run counter to logic. So it is with bathroom lighting.
Planning to install it in the spring might seem at first to be illogical. After all, the days are rapidly getting lighter and brighter, meaning the need to use lights is diminished and many a bathing experience will be illuminated with lots of pleasant bright natural light.
However, it's worth considering that this very fact means now is the time when you can establish both how to maximise natural light in the bathroom - making it a good time for a makeover, renovations or even work like fitting a skylight.
That, in turn, will show you just how illuminated the room can be naturally, which should be the guide for your ambitions when you are using artificial light.
In this case, you will be thinking ahead to when the days get darker again. Can the quality and location of the lights help you go a long way towards recreating those dazzling days of spring and summer when it's a cold, dark morning in January?
With some of the best designer bathroom lights in the UK, you can do just that.
Indeed, it is worth considering that it is not just about getting bright light in. While that can help you feel awake and alert on a dark wintry morning, other elements like mood lighting options can give you the chance to vary the light levels. That way you can switch from get-up-and-go brightness for that morning shower to a chilled out evening vibe with dimmed lights and a long, hot soak.
Giving your bathroom a makeover in spring is a popular step and may involve all sorts of changes. But by including the lighting in your changes, you can ensure you have a bathroom that looks great and provides the mood and setting for every occasion, not just in spring but throughout the year.