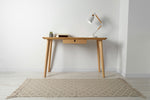 Designer table lamps have been a staple feature in people's homes for years, creating atmosphere, focused lighting, and a statement in each room.
However, design trends change frequently, often leaving homeowners unsure what the latest looks are when it comes to their decor, fixtures and fittings, and accessories. 
The good news about table lamps is lots of styles are still en vogue, from round ones and abstract designs to more traditional tall models with lamp shades.
New York Magazine's The Strategist suggested going for a tall brass and cane table lamp with a pleated linen shade and brass pull if you want something that is timeless. 
Alternatively, lamps with shorter, stouter bases are also popular options, as these bring a "laid-back vibe to any room". 
Something unique would be a ceramic lamp with a gilded base, as this looks both "modern and timeless", suiting a period property with other vintage features. 
Round lamps are becoming increasingly popular and are likely to remain in fashion for some years, as they are striking and interesting to the eye. 
These are particularly good for entrance halls or bookcases, while homeowners might want more prominent tall ones in their living rooms. 
Abstract styles, such as ones with a tripod base, mushroom shape, or that have an individual quality, are also great additions to interior design. 
When it comes to which lighting trends to avoid, Homes and Gardens suggests doing away with matched lights throughout the house. 
It states: "Every room in your home has a different story to tell, and provides an opportunity to showcase a whole host of beautiful design ideas, and your chosen lighting should perfectly reflect that."