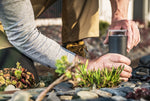 Every homeowner with a back garden of significant size has various options for what to do with the space. Some go for big lawns, otherS for extra flower beds, and some for rockeries or large ponds.
However, at the turn of this century the fashion was to build conservatories, giving up some garden space to add an extension to the home. As well as their initial appeal, it was believed they could add value to the property.
This notion has, however, been hotly disputed of late. Vince Courtney, chief sales officer at estate agent Purple Bricks, recently wrote in the Daily Mail that many early 2000s conservatories look "tired and dated" and have poor energy performance, knocking £15,000 of a typical home's value.
A Daily Telegraph article has responded by highlighting the potential for a high quality conservatory to add value, but a point it did not address was Mr Courtney's highlighting of the fact that many people now prefer larger gardens, especially after Covid lockdowns emphasised the need for space.
If you want to make the most of substantial garden space by not building on it, either with a conservatory or a more popular current option like a garden room, designer outdoor lights may be an ideal addition.  
The reasons for this are many: Firstly, they can add a great decorative feature. Secondly, more space means bigger parties, which may use up more of the space and thus justify lighting up darker corners on summer evenings as the twilight sets in. Thirdly, without a conservatory jutting out with lights on, it adds illumination where none would otherwise be provided.
With extra garden space created by leaving the ground clear of built extensions and additions, you have lots of options. By adding more light, you can ensure these can be enjoyed both by day and by night.