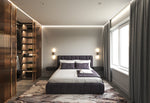 Unlike other areas of the house, special attention must be paid when lighting the bedroom. This room is supposed to be a calming, relaxing environment where you can rest and sleep. 
Choosing the correct lighting solutions to keep this area calm and serene is important in having a relaxing and enjoyable space.
While investing in a decorative, luxury ceiling light is important to ensure you have sufficient lighting in the bedroom should you need it, using alternative lighting as your main source of light will create a nicer, cosier environment.
A mixture of standing lights, wall lights and tabletop lighting is a great way to get a mixture of tones and lighting intensity. You can choose how many lights to wish to turn on depending on the amount of brightness you need at any time.
This is also a great way to incorporate décor into your bedroom in a practical way. Lighting is not only useful but can be extremely beautiful and decorative. Lampshades, covers and bulbs can all be changed and tailored to fit your desired aesthetic.
Using multiple light sources also enables you to mix a range of light temperatures in the room. This gives you multiple options and allows you to bring the tone of the room from cool to warm whenever necessary.
Having these options is great in the bedroom as it can assist you in winding down from the day and ensure you get a good night's sleep. Having warm, cosy lighting instead of cool bright lighting can help you fall asleep easier and may improve your quality of sleep as well.
Light has a
direct effect on your sleep
and melatonin production, so mimicking natural light in your bedroom is a great way to ensure your sleep cycle is normal and healthy.