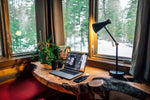 Ever since the pandemic struck in 2020, most people have adapted a space in their house to be a home office. Three years on, you might still feel improvements could be made to your working space, so it is more stylish and boosts your productivity. 
Firstly, it is worth getting the right lights so you can see work clearly. The best form of light to have in your home office is natural light, so place your desk in front of a window if you can. 
According to The Spruce: "Sunlight can produce warm lighting that improves the work environment."
Placing the desk in front of or next to the window reduces glare from computer screens and allows you to take in views of the outside while you're working. 
However, with the long, dark winters, you'll also need artificial lighting too. In this case, make sure you invest in task lighting, such as luxury UK desk lamps. 
By directing this on to the computer, paperwork or notepad, you can focus your attention more easily on each. This could increase your productivity and help you finish your tasks more quickly. 
It is also a good idea to have good storage around your desk. By having pen pots, bookshelves and filing organisers, you will be able to keep the space tidy and organised. 
Your office can become more easily cluttered at home, but try to get rid of any rubbish daily and make use of your storage solutions. 
As
Inc.com says
: "You can't get your work-from-home groove on with a clear, focused mindset when you're surrounded by junk."