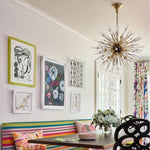 At Decolight, we pride ourselves on offering designer lighting ranges that are not only stunning but also built to last. We believe that good design should not only be aesthetically pleasing but should also be functional and durable. This is why we carefully curate our collections to include only the best brands that embody these principles.
One of the brands we are proud to offer is Quintessence Lighting, known for their refined and elegant designs that are both beautiful and functional. Their award-winning table lamp, wall lamp, bathroom light, modern wall light and ceiling light are all perfect examples of their minimalist and refined approach to design.
Hudson Valley Lighting is another brand we love for their iconic and timeless designs. Their pieces are inspired by classic styles but with a modern twist, creating pieces that are both familiar and fresh. Troy Lighting is another great brand that focuses on a balance between form and function. Their pieces are made with high-quality materials that not only look good but also perform well.
Corbett Lighting is a brand that takes cues from both minimalism and art deco, creating unique and striking designs that play with texture, shape, and light. Finally, RV Astley and Visual Comfort are two brands that we love for their use of classic materials such as brass and marble, combined with contemporary design to create pieces that are both elegant and modern.
Investing in designer lighting is not only a wise decision in terms of quality and durability, but it is also a way to elevate the overall design of your space. By investing in pieces that are both functional and beautiful, you are making a statement about your personal style and taste. These pieces will outlast fads and trends, and will continue to look stunning for years to come.
At Decolight, we believe in taking a balanced approach to design, creating pieces that are not only visually stunning but also expertly crafted and built to last. Whether you are looking for minimalist designs, iconic styles, or something in between, we have something for everyone. Browse our collections today and find the perfect designer lighting for your home or office.