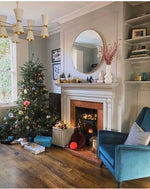 Top Christmas Gifts Ideas For Interior Design Lovers
There is less than one month to go until Christmas Day, so those who haven't started their festive shopping will be feeling the pressure to hit the high street as soon as possible.
However, sometimes buying gifts can be really difficult, especially if the recipient already seems to have everything they need. For interior design fans, though, there are certain things they will be longing for this Christmas.
Here are just a few presents they would love to receive on December 25th that will ensure their homes look bang on trend next year.
Almost everyone has a table lamp, but few people invest in luxury designer table lamps that will really add charm and character to a room, as well as a calm and warm ambience.
There is a huge range of light fixtures to choose from this year, depending on the taste of the person you are buying for. For instance, you might want to spoil your loved one with a beautiful Aerin Garnnet table lamp in aquamarine with a intricately-detailed base and a large shade for those who love cool blues and calming tones in their living room.
Alternatively, the Avignon table lamp in polished copper is ideal for fans of the industrialised interior design look, with its metallic base and soft lighting.
Meanwhile, the Arabella distressed gold table lamp is the perfect choice for friends and family who love the vintage look. This would suit a house decorated in 1970s features perfectly, while it would also be good for homeowners who love a more old-fashioned Victorian feel to their living rooms.
Even the most devoted interior design enthusiast might not have all the lamps they want, so getting one for them – especially a light that will really add soul and substance to a room – will be extremely valued this Christmas.
Dolce & Gabbana Appliances
Homeowners who really like their designer labels will surely love the collaboration between fashion house Dolce & Gabbana and appliance experts Smeg. They have released a collection of really vibrant, alternative gadgets for the kitchen, including a blender, toaster, kettle and juicer.
The 'Sicily is my Love' label celebrates the original designs and aesthetics of the Mediterranean island, with bright yellows, bold reds, vivacious patterns and paintings of Sicilian landscapes, food and wildlife really making this collection stand out from the crowd.
Therefore, one of these appliances makes an ideal gift for those who not only love a bright kitchen full of character, but also wants to make their interior design choices look a cut above the rest.
On the other hand, if your loved one prefers the neutral, Nordic look that is going to be really popular next year, you could help them create this design in their homes with a cosy throw.
Any textile piece – from cushions and poufs to throws and rugs – adds texture to a room, helping to bring it to life and make it cosier, which is particularly important in the winter months.
Scandinavian décor is going to be huge in 2020, favouring simplicity, neutral colours and functionality. Not only will people be chucking away their clutter, they will swap their colourful walls and bright cushions for whites, creams and light greys.
Textiles are set to play a massive part, with Elle Décor revealing "wool, mohair and sheepskin throws are some of the few accent pieces that bring texture in the home while abiding to the Scandinavian aesthetic".
The magazine recommended choosing natural textures, such as burlap or jute, in shades of grey or pale purples with grey undertones. It also suggested warming up a room with blankets and throws, while rugs, cushions and wall tapestry will add to the Scandinavian effect.
Not everyone has an abundance of outdoor space, which is why it could be a good idea to gift your friend or relative with some indoor greenery.
Tropical designs will be a big trend in 2020, so having some indoor plants will certainly add to the exotic feel. You could get them a hanging planter made out of macramé that will take the greenery off the floor if they are short of space, or you could purchase a rustic-looking wicker planter with a metallic stand, much like this one Harper's Bazaar recommends.
According to Ideal Home, soft tropics will remain popular next year, and not just during the summer months. Brits who want to brighten up their homes while it is gloomy and grey outside can add botanical prints to their lounge, as well as lots of vibrant greens, mustards, blues and nude pinks.
The publication suggests tropical wallpapers to complete this look, saying: "Bold wallpapers, such as tropical leaves are going from strength to strength this season. Vibrant bold prints can breathe new life into rooms, big or small."
One way homeowners have been keen to embrace this trend is by bringing nature into their homes with indoor plants. Indeed, searches for vertical gardens on Pinterest soared by 287 per cent recently, with more people wanting to add some plants to their homes.
The Guardian also reported figures from the Royal Horticultural Society, which showed there has been a ten to 15 per cent year-on-year increase in sales of houseplants since 2013, with purchases surging by 50 per cent in 2018. This proves how popular the indoor greenery trend is already – and it is likely to remain so for the next few years.
Therefore, indoor planters, particularly in natural materials like wicker or wood, are ideal choices, enabling loved ones to celebrate their passion for foliage no matter how little space they have.
Presents are meant to be luxurious, so why not get a brass umbrella stand for your friend or relative? They are unlikely to have one already, making it a great present if you are running short of ideas.
Indeed, Harper's Bazaar said this is the perfect gift for "the interior lover who seems to have everything". Not only is it functional, keeping tall umbrellas out of sight and organised, but its brass design lends itself to the industrialised trend that is massive at the moment.