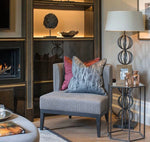 How To Use Lighting To Make Your Home Cosier This Winter
In just a couple of weeks the clocks will go back, which means we can expect shorter days and darker evenings. While we might miss spending long evenings outside, it is the perfect excuse to snuggle up on the sofa and enjoy being at home.
The best way to make your home feel comfortable and cosy, however, is with a clever use of lighting. Here are some tips on how you can utilise your light features to create a feeling of warmth in your house as it gets colder outside.
- Floor lamps
One of the most effective ways to make your home cosier in the winter is by switching off the main light and using floor lamps when it gets dark instead.
You can find a huge range of designer floor lamps in the UK to suit your interior design, whether you want a contemporary brass lamp for a modern apartment or an industrial-style model with an Eddison bulb for a house with period features.
House Beautiful recommends having a double-arm floor lamp this winter, as this means you can create two areas of lighting in a room without having to put the main bulb on.
According to the article, this is "perfect if you're not the only one who likes to snuggle up with a good book on dark, autumn evenings".
- Cabinet lighting
Another way to add light to your home without strong artificial lighting is by using cabinet lights. Not only do these display the contents of the cabinet well without having to strain your eyes, it also helps to add warmth to the room.
Furniture manufacturer Hulsta says: "Sideboards lit from the rear … can literally be a true highlight: a lit frame, which surrounds the wall-mounted units, subtly lights the room and gives the sideboards a floating appearance."
- Hanging pendant lights
One way to add both style and beautiful lighting to your home is by fitting hanging pendant lights. The dining room is a great place to have these, creating a focus around the table without the use of a strong central bulb overhead.
By having a set of different pendant lights, you can change the strength of the glow as you wish by turning one or two off. You can also choose to raise the lights or lower them, creating different ambiences when dining, whether you want a warm family atmosphere or a romantic meal for two with low lighting.
You don't have to choose the exact same style of lampshade for the lights; instead you can jazz up the look by picking three designs of similar size and complimentary colours and hang them at varying lengths. This adds a depth and texture to a room for a quirky and more playful effect, creating a homely feeling when you get back from work.
- Warm lighting
Of course, it isn't just the type of lampshade you choose that can make a house feel cosy or not, but the colour and strength of the bulb as well.
If you dim an incandescent bulb, you are able to get an orange hue to the bulb, which creates a warming glow. However, while LED bulbs will put out less light, it is of a whiter colour, and is therefore not as warm or cosy.