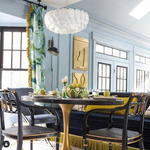 Whether you feel the need to spruce up your dining room, or you're considering a new look for 2020, these upcoming trends will get you ahead of the game for making sure you have the right light for your needs. There are ample contemporary and classic lighting ideas available in the UK.
The right light can make or break a room, especially when it comes to the space where you gather and share your meals. Dining room lighting trends are always evolving and changing, as are the trends in what we prepare and eat, so make a big impression both visually and culinary in 2020.
For clean, contemporary and modern dining rooms, geometric designed light fittings and fixtures will feature heavily, proving already to be one of the current biggest trends. Unique and stylish, creating an angular retro industrial styling, especially with the addition of Edison bulbs.
For larger open space dining rooms, it can be a case of go big and go home! Oversized fixtures can make a bold statement in any room, but for the larger spaces, they can become a striking feature of their own.
Minimalist, bare bulb, black finished fittings are becoming one of the most covetable trends for 2020. Available in a variety of styles, and with matte or gloss finishes, these fixtures make an alternative to metallic finished fittings, and remain sleek, stylish and modern.
Delicate and minimal glass chandeliers will almost definitely become a popular style statement. More like ceiling jewellery, these crystal and glass fittings cast a more ethereal light on proceedings, emulating the look of a waterfall.
Bare bulb, minimalist fixtures are perfect for the more city loft style dining room and kitchen. Create that hipster chic bar or cafe lighting for an understated, but clean, ever-so-cool style, that works so well with bare walls and industrial finishes.
Add a little more texture and variety with fittings that mix textures and materials, and even different size and style of bulbs to give the effect of more dimension and structure. Fittings with wood and metal combined can bring together nature and industrial styles.
Rustic spaces and dining rooms remain ever popular, there is little that is cosier than the warmth of a comfortable welcoming space. Rustic styled fittings are always popular, and evolving to meet trends, and find them with chic elements like fresh colours and finishes, and delicate details.
Using multiple hanging fittings can make a bold statement, rather than using a singular pendant light. A row of contemporary pendants over your dining table is a fearless, and bright solution.
Modern decor is based on cleaner lines, less clutter. Less ornate fittings will work better with such styling, sitting more comfortably in to the surroundings, and adding a tidier finish to the overall look.
There are so many available options for designer ceiling light fittings, visit us today for more ideas.