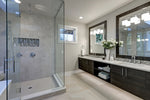 You have just renovated your bathroom with the latest suite, brand new tiles, and a stunning floor, but it still feels like there's something missing. That could be because you haven't updated your lovely new washroom with equally stylish lights.
For some inspiration on what bathroom lighting trends are big this year, read on.
Everyone needs a well-placed mirror in their bathroom where they can put make-up on or shave their face, but as important as a good mirror is the lighting that goes above it.
Instead of having one main light over the top of the mirror, the trend this year is to have a group of lights.
According to Real Homes: "Grouping bathroom lights over – and to the side of – a mirror will ensure that they're working where they're most needed."
Alternatively, you could opt for mirrors that are backlit already, if you want to create a minimalist look in your en-suite or main bathroom.
For a bathroom you want to show off to all your visitors, you could add a statement drop light. A low-hanging feature will take centre stage in a large bathroom and help fill the room with light, making it appear bright and spacious.
While you might think luxury ceiling lights are better suited to dining rooms or lounges, they can also look great in bathrooms that are large, and grand, enough to pull off such an elaborate feature.
While it may seem obvious that you will need a main light, as well as mirror lights, you might not have considered the advantage of installing accent lighting too.
This helps show off a feature in the room that you want others to notice, such as a roll-top bath, exposed brick wall, or stylish artwork.
Described as a "must-have design feature" by Real Homes, having different lighting zones can really help create a relaxing ambience in a bathroom, transforming it from a functional washing area to a spa-like space for a relaxing evening bath. 
Those have enough space to have 'his and her' sinks and matching separate mirrors will want to finish the look by installing distinct lights for their sides of the bathroom.
Interior design guru Emily Henderson notes that his and her sinks are being complimented by rectangle mirrors this year, replacing large and bulky toiletry cabinets. To be able to use these mirrors effectively, you need to have separate lights, which also means you don't have to light up the entire room if only one of you is in it at a time.
Whether you want to create an industrialised look to your bathroom, you want your washroom to look like it belongs in an old-fashioned New England home, or you like the vintage look, you are sure to fall in love with the current trend for cage pendant lights.
These lampshades are modern-looking, while having an old-fashioned quality with their brass structure and industrialised design. Complement them with Eddison bulbs to complete the look, which will instantly bring a bathroom up to date.