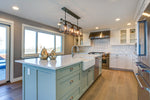 How To Find The Right Lighting Style For Your Home
How you light the different rooms in your home is an important element of your interior design. If you've never considered the light in your property, now is the time to start.
A recent article for the Seattle Times shared some advice about the things you should consider when you're choosing lighting for your rooms.
The news provider noted that lighting has the power to elevate a space, or make it feel really drab and dreary. To make sure your home is the former rather than the latter, you may want to take some of the advice it offers on board.
Firstly, you should consider all of the kinds of lighting you can use to make your room more inviting, or to highlight particular features or areas. There's obviously natural light, but then there are ceiling lights, wall sconces, chandeliers (if your room is big enough), floor lamps, table lamps and even fairy lights.
But although the appearance of your light fittings is important, start by considering the function they'll play.
If you need an area to be well-lit, like your kitchen surfaces or your bathroom mirror, make sure you take that into consideration before you start thinking too much about the aesthetics.
Once you've got the functionality sorted you can have fun choosing luxury designer lighting for your home.
The news provider suggested that you should opt for a show-stopping light fitting in your hallway or dining room. These are great spaces to use light to make a real statement.
When you're looking at the various options available to you, think about whether you want to make the space feel more formal or more casual. If it's the latter, you can opt for light fittings that show off a bit of your personality.
Don't shy away from adding more lights to a space either. "When in doubt, more is better. You can never have too much light in a space," the newspaper stated.
Wall sconces and recessed lighting can both be good options if you want to add some more ambient light to a room, while another thing you could explore is picking a stunning standing lamp.
When you're buying lights, it's also worth thinking about their energy efficiency. Choose LED fixtures if you're looking for a light fitting with great eco credentials, as these bulbs will last for years and use a lot less energy than other types of bulb.
If you're not sure of the best way to make the most of the light in your home, take a look at our recent advice on this subject. It's not all about the light itself, sometimes changing the layout of a room can make a difference.
Before you make any big changes to your lighting, make sure you assess the room at all different times of day, so that you can work out when you need extra lighting and where it's best to put it.
Changing the colour of your walls can also make a difference. For instance, if your room often feels dark try painting the walls a paler colour and see how that changes the atmosphere.