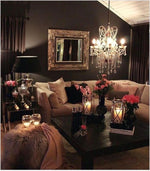 It always seems that as soon as the Christmas decor has been tidied away, suddenly easter eggs are on sale, but before we even get close to that chocolate feast - love it or hate it - Valentine's Day is rapidly approaching. Luxury designer lighting experts have some tips to create a romantic mood.
We'll soon be surrounded by everything heart shaped, pink, red, and even fluffy hearts, as Valentine marketing goes into overdrive, even Starbucks have officially begun their romantic campaign. If you're wanting to avoid the busy restaurants and bars come 14 February, it's easy to create that special mood at home with some simple lighting.
Greet your Valentine as he or she arrives, by lining the pathway or hall with lanterns, leading the way in to your arms. Even simple LED tea lights in a jar make such a delicate, simple, and subtle effect, and a wonderful surprise to arrive to.
If you're entertaining at home, then of course you'll be wanting to impress with a home cooked meal, but by dressing the dining table with candles, flickering LED tea lights, or even dig out the Christmas tree lights, to create a warm, welcoming atmosphere.
Contrast can also be used to set a romantic mood. There should be no harsh transitions from light and dark. Instead, think of smoother transitions. If most of the room is kept in the shadows, the focal point should be where the people are located. For a dining room, that would be just under and around the table.
February is still in the middle of winter, so why not adopt the Scandi concept of "hygge", wrap up in cosy blankets on the sofa with a hot chocolate, and watch a favourite film. Turn the lights down low, or invest in some colour and hue changing light bulbs for table lamps and pendants for an incredibly cosy effect.
Colour temperature is hugely important for a romantic mood. Think of sunrise or sunset, when the sun is at its "warmest" colour, a red or orange hue. Red or soft pink light bulbs can change the makeup of a bedroom, living room, or dinner table. Avoid "cool" colours like white or bluish light, keeping the light on the warm end of the spectrum.
Fairy lights are always a great idea and they truly do make the bedroom look whimsical. These tiny beads of light can easily turn a boring, day-to-day bed into a magical romantic paradise when used correctly.
Experiment with the lighting you already have, and see how moving lamps can change the feel of the room to create the ambience you want. Simply changing the bulbs to differently hued ones, or Edison bulbs can drastically change the mood. Similarly, replacing any old and dusty lampshades for something new can cast new light on your surroundings.
Maybe, come 15 February, you won't want to lose the ambience and keep that romantic feeling all year round! If you're looking for contemporary and classic lighting options, visit us today!