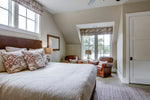 There's little as gloriously decadent than checking in to a luxury hotel in anticipation of exploring your room, and indulging in the glamorous interiors. Many of us would love to recreate the styling and feel of the boutique hotel chic in our own private retreat. Luxury designer lighting experts can show you how.
A bold colour scheme can be a key element, creating a level of opulence to your bedroom. Strong, saturated colours can have striking effects, but do require some confidence. Satin soft furnishings and faux fur throws can compliment rich colours on the wall and flooring. Brighter colours can reduce the impact if this seems too bold.
For smaller rooms, and for a more tranquil setting, it is best to opt for pale colours, whitewashed walls, and keeping decor to a minimum. White is a common theme in hotel linens and bedding, helping to create a more heavenly, cloud-like atmosphere. Incorporating mirrors in to your room will also give the illusion of more space, and make use of the natural light.
The open plan living space of the hotel room lends itself to minimalism, and lighting can be used to add the finishing touch to a contemporary, industrial scheme. The bedroom is a multifunctional room, no longer just for sleeping.
Combining ambient, natural light with task lighting is essential. Cosy lighting is needed to create place too relax and rest, but combining other lighting for activities such as dressing, applying make-up, and cleaning is important. Use contemporary lighting to create the ambience and aesthetic desired. For an overall design that lasts the test of time, carefully consider your lighting choices and placement.
Incorporating textures in to the room adds a tactile level of luxury. Make your headboard a feature, and use rich fabrics such as velvet increase the lavish feel of a room. Throw pillows and soft furnishings that have the textured luxury feel will add to the comfort.
The bedroom is the only room in the house with could be truly just for yourself, and you can make it in to a statement about your personality, whether that's the shape and size of the bed, the decor, or just the little details and luxuries found in a hotel room that make an overnight stay so inviting.
Luxury and stylish bedside lamps can be a statement piece, and superb if your budget doesn't cover an entire bedroom redesign. Changing the lighting in a room will always give it a fresh new look and appeal.
Scented candles, bespoke cushions, and statement vases will add to the opulence, and make it room you will want to spend more time in, a welcoming, luxury space to call your own.
If you are looking for new light ideas and luxury designer lighting for any room in the house, then get in touch with us today, and visit to view our entire range.