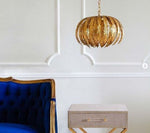 Light fixtures and fittings are a great way to showcase your style in the home, as well as producing illumination during the darker winter months
The interior trends for 2021 have been shaped by the coronavirus pandemic, and lighting design is no different. With spending much more time at home, we are wanting lighting that helps us relax, as well as task lighting for our work from home stations.
Here are some of the trends in home lighting to expect in the coming year.
Soft metallic finishes
Look in the glossy interior design magazine, and many of the pieces featured will employ soft metallic finishes. Whether it's the edge of a coffee table or a light fitting, there will no doubt be some sort of metallic element incorporated into them. It can bring a sense of elegance and luxury, as well as looking expensive.
Monochrome design with gold metal
Going hand-in-hand with soft metallic finishes is the combination of monochrome textures and gold metal trims, which absolutely ooze luxury and style.
Industrial Style
The industrial-chic has been around for a while and shows no sign of slowing down. It refuses to look out of date, and the designs for 2021 are looking better and better.
Expect to see simple geometric designs and tubes, mixed with concrete and bold engineered lines, with textures of wood and black metal combined. The style works well in any interior setting and can be a striking statement piece in large open spaces.
With the sheer number of ways to stamp your personality on your interior design around the home, the unique upcoming trends can be implemented easily, helping create different atmospheres in each room.
If you are interested in contemporary classic lighting in the UK, then come and talk to us today to see how we can help.