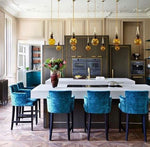 Although you might feel as though you need to splash out on expensive furniture and features to give your home a 'wow' effect, you might be able to achieve more than you imagine on a more modest budget.
Designers have been sharing some of their secrets to making interiors look truly incredible with Elite Daily and you could use their tips to revamp your home without the upheaval and expense of fully redecorating.
Amira Johnson, an interior designer at Emerald Doors, said that lighting is the key if you're looking for a cosy ambience. Her top tip is to use table and floor lamps with soft, warm lighting to create this atmosphere, alongside chunky-knit blankets and faux fur throws.
Luxury floor lamps in the UK can be an excellent investment for your home, one that is practical as well as adding some designer flair to your space.
You could also consider buying smart light bulbs for your home. These can be controlled from your smartphone, so you can turn them on when you're not there, as well as dim them as necessary.
It's also worth looking at your home's lighting for your overall health and wellbeing. A recent study conducted in Australia found that our homes could be too bright, which suppresses our body's natural melatonin levels and therefore negatively affects the quality of our sleep.
The Sydney Morning Herald shared the findings of the study, which noted that lights that emit higher levels of blue light have a greater effect on our body's natural cycles. Swapping out bright lights for dimmed and softer ones in the evenings could therefore help you to sleep better.