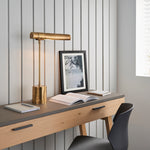 Our interior tastes are changing rapidly in this new period where we're all spending much more time in our homes than we have in the past. Vogue recently spoke to a number of leading designers to find out what they're predicting for the coming year.
One of the top trends identified is for a return to maximalism in our interiors. Robert McKinley told the magazine that "minimalism will begin to go by the wayside in 2021".
He added: "As we spend more time in our homes, we need more objects to hold our attention. All that empty space can be suffocating."
However, as Martyn Lawrence Bullard noted, we are looking for items that do more than just make a statement. "Needless excess is out, functionality and duality in the home is in," he asserted.
This means that items like luxury desk lamps in the UK are likely to become firm favourites, as they add some design flair and are useful. In fact, table lamps were singled out as a design trend to watch, with people using them to provide a soft glow when they are on video calls. 
Additional accent lighting, such as well-positioned desk and table lamps, can soften the overhead lighting we typically have in our homes, not only helping our appearance on video conferences, but also making our interior spaces feel more cosy.
Last month we picked out some of the top lighting trends to watch this year, with soft metallic touches on light fixtures one to look out for. These items look very stylish and suit the statement and maximalist trend, for instance.