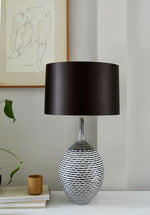 With the nights getting longer, choosing the right lighting is more important in winter than at any other time in the year.
Your choice of lighting will determine the ambience and feel of everything else in a room, so it is important when deciding which luxury table lamps would suit a particular room the best to look into every aspect of your lighting.
Here are some top tips when selecting your perfect lamp.
The Bulb
There is no more important part of your lighting fixtures than the bulb itself. What type of bulb, the colour and colour temperature of the light it radiates and its shape can have major effects on the mood of the room.
According to a study on lighting, there is a relation between lighting and our mood, and different bulbs create a different atmosphere.
Typically lower temperature bulbs tend to create a warmer, more relaxed atmosphere, whilst a higher temperature bulb is starker and helps to create alertness.
Focus On Style
Lighting is the most important part of your room and your lighting fixtures and lamps are often centrepieces. Choose a lamp that fits your style and the mood you are conveying.
Whether you choose a more traditional rustic shaded lamp or a more elaborate vintage-themed affair, choosing a lamp that speaks about you makes for an excellent conversation starter.
As well as this, be sure to choose a lampshade that also fits the aesthetic you are going for and allows for the right area of illumination for the effect you are going for.