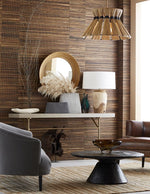 If your home is the blank canvas, your luxury designer lighting is the paint that determines the mood of your painting, one brush stroke at a time.
We've rounded up three of the biggest trends of 2021 from interior experts around the world:
It's all about serenity
The pandemic has shown us an unpredictable and unnerving world, and interior design is being used as a way to offer a sense of comfort and calm to homes.
"There's a renewed desire for serene and calming forms," says Umberto Bellardi Ricci, an Italian architect, sculptor and luxury lighting designer. "I've seen a similar transition in other design fields, such as architecture, for a return to more minimal and simple shapes and geometries."
Ambient lighting is key
The days of flicking a switch and flooding the entire room with light are behind us, and today's trend is for creatively targeted lighting solutions.
"We see stylish sconces adorning walls in bedrooms, bathrooms, and sleek sitting spaces, perfect for reading," says Trend Forecaster Patti Carpenter.
"I've always favoured indirect lighting, and there are some beautiful ways to achieve custom sculptural lighting," says Lindsey Chan, cofounder of an interiors firm. "We've been steering our clients toward sconces and table or floor lamps to achieve a softer ambient lighting."
Humble materials return
More natural and organic materials are also ruling over complexity and extravagance.
"I've seen a trend towards ceramic sculptural lighting and natural materials such as cork, leather, bamboo, and raffia," says Lindsey Chan. "I find that materials such as raw metals, ceramics and glass are desired, in contrast to a lot of the plastics we've seen in the more recent past."
If you're looking for luxury designer lighting to transform your home, check out our extensive collection today.