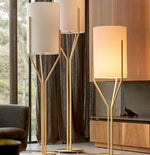 Now that summer is over, it is time to give your home a new look to celebrate the new season. Here are some tips on adding some autumn spice to your house.
 Create your own pumpkin patch
Pumpkins aren't just for carving, and you can instantly create a rustic look to your property by placing a couple of large squashes outside your front door.
This works really well if you decorate the area with evergreen plants and some baskets of pinecones. You could really bring the look to life by placing the pumpkins on a bale of straw for an authentic pumpkin patch scene.
Real Homes suggests: "There's nothing nicer than sitting outside during 'golden hour', that lovely time of day when the sun starts to set, keep a blanket in a basket to hand for when it gets cooler."
 Light up your mantelpiece
Christmas isn't the only time of year to decorate your mantelpiece, and you can really show off your fireplace by adding a garland of berries and leaves along the top.
Mantlepieces are also great places to hang fairy-lights for a cosy, romantic feel to a lounge this fall.
Indeed, when the weather gets colder, there is never a better time to turn on your luxury floor lamps for mood lighting, and warm up next to a fireplace.
 Autumn leaf wreaths
The colours of leaves during autumn can be beautiful, so why not embrace the rich reds, copper browns, and burnt oranges by getting a rustic wreath decorated in these vibrant leaves?
Narcity recommends placing it on your front door for a welcoming look, adding: "You could also hang it indoors if your home is in need of some extra fall vibes."
They also make great centrepieces on coffee, or dining room, tables by adding a selection of different-sized church candles in the middle.