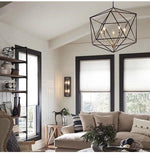 October has arrived and it's time to say goodbye to the summer sunshine and hello to autumn's colder weather and dark nights.
And if you're anything like us, you'll already be feeling the smoky sense of new beginnings, getting excited about hunkering down and hibernating in a world of thick jumpers, soft lighting and hot chocolates.
So it's time to hang up your chic straw bag and put away the patio furniture until next year, and start transforming your home into a cosy sanctuary—but fear not, you don't need a full home makeover to make your autumnal dreams come true. Just a few little updates and the right luxury designer lighting can make your home a relaxed retreat.  
Here are our three favourite ways to help your home transition through the seasons:
Use throw pillows and cushions
Whether you go for warm neutral colours or rich jewel tones, soft furnishings are one of the best ways to make your living space all about comfort. Cushions and pillows don't just need to go on the sofa, either—large pillows on the floor are great for eating at the coffee table when friends are round, or for sitting by the fire on cold nights. 
Keep the room alive with autumnal foliage
Flowers might feel more summery, but you can keep bringing the outdoors inside this autumn by tweaking your colourful floral arrangements for more neutral tones. Go for classic green house plants or a big bunch of eucalyptus in a vase on the fireplace.
Turn down the brightness with luxury designer lighting
You could have the most gorgeous autumnal living room, but it's not going to look right if you're brightly lit with the centre light on this autumn. Explore luxury designer lighting to help you light your home in a way that's soft, subtle and effortlessly stylish this autumn.
To get your home autumn and winter-ready this year, explore our range of luxury designer lighting today.