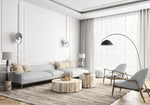 Homeowners might want to brighten their homes this spring by switching up their interior design for the season. 
Here are some tips on how you can update your home with spring decor to feel fresh and light over the next couple of months. 
Wallpapered bookcases
Wallpaper prints are huge this year, but if you're not brave enough to change an entire wall, why not experiment by jazzing up the back of a bookcase? Pick bright colours such as turquoise and yellow for a real spring look. 
Statement lighting
You can't redecorate your entire house for the season, but you can make small changes like having statement lighting. Choose something that is eye-catching, as this will make a big difference to the feel and look of the room with just one alteration. 
Colourful designer wall lights, for instance, can completely change a room. 
Coastal textures
As we approach summer, coastal interior design will become a big thing. According to Living Spaces, white-washed furniture, rattan, terracotta, linen, greige and white hues, and reclaimed wood tones are what to include in your spring interior design. 
Geometrics
Geometric patterns will also be big this spring, so change your throws, table decor, bedding and rugs to feature the artwork. 
As this design has been popular for several years, they are now regarded as a "stable design aesthetic" that is expected to remain for the foreseeable, so investment in new geometric decor for the spring won't be a waste.