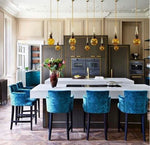 There are many elements to consider when you're revamping your home and giving it a luxury makeover and one that you certainly shouldn't forget is the lighting.
An article for We Heart recently offered some interior design advice and noted that it is advisable to make use of technology where your lighting is concerned.
The publication suggested that using smart lighting is a great solution, because it will allow you to change the mood of the room and also give you the chance to try different brightnesses of lighting to find which works best for your space, without having to replace your lights multiple times.
Consider also your light switches, as there are more luxurious options than the standard white plastic switches, so make sure that pair your luxury ceiling lights in the UK with switches that fit in with their high-end finish, rather than diminish it.
"Use something that works with the room and gives your overall effect a great finish," the news provider suggested.
Speaking to the Wall Street Journal recently, Colette van den Thrillart, an interior designer based in Toronto, revealed that lockdown has introduced her to portable and rechargeable designer lamps, which she described as "life-changing".
Ms van den Thrillart recommended choosing one with a high-end design to get the maximum benefit from it, adding that she was sceptical about how they would look before investing in one herself.
She revealed that every time she takes one to a client's home, she ends up having to buy herself a new one because "they won't give it back".
Lighting truly does have the power to change an interior, so take the time to focus on this element of your design and you'll have a luxurious and stunning home that you can enjoy at any time of the day.