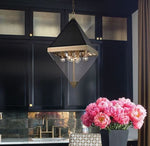 When it comes to decorating or refurbishing a small room, many people tend to go for white or pale colours to make the room feel larger, as darker colour schemes are believed to make the room feel smaller.
However, whether it's a home office, spare room, or attic conversion, we're here to put right the misconception about dark colours and small rooms, and how you can introduce dark and dramatic hues to your home without feeling trapped in a small box.
When a small room is painted in a dark shade, it acts as a distraction from the fact the room is small. When a small room is pale, you are able to see the corners and boundaries of the room, but if the room is painted darker, these boundaries are not as immediate, and you can't instantly tell where the room stops, subconsciously making it feel larger than it is.
It's also important not to forget the power of lighting for helping to instantly alter how big or small a room feels. Instead of considering lighting as a practical addition, take a look at it from the way a film director or cinematographer would, and create little pools of light.
These lighting highlights give a room atmosphere and can be an incredibly quick and easy trick to transform how a room feels. Desk and floor lamps create focal points, drawing the eye away from the dark corners of a room, and the shadows cast further hide the boundaries of the room.
The secret to creating the illusion of a larger room is to go for darker colours, and to make lighting a feature of the room, rather than simply a practical addition.
If you're looking for contemporary classic lighting in the UK, visit our website today.