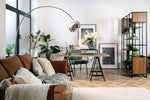 Placing your personal stamp on your home makes it feel extra special and comfortable, and interior design allows you to custom design your space, and transform it to suit your style and needs.
Whether you're refreshing the entire home, one room, or adding new essentials such as a home office, we have a look at some interior design ideas to transform your home.
Reinvent your home with paint
Adding a lick of paint is a simple task, and won't blow the budget, but if you're considering repairing your entire home, it's important to choose a colour palette that ensures coordination throughout the space. It might be best to consult a professional or hire an interior designer to ensure you get it right.
Use window treatments
Window treatments instantly add elegance to a room, and they are typically added last to either tone down or enhance a room's features. It's important to know the difference between curtains, drapes, shades, and blades, as well as choosing the right length according to function and style.
Accessorise your home
Accessories are your way of adding style and personality to your home. The function of the room will determine how best to accessorise it and the mood you seek to create.
To bring the best out of your accessories, repeat shapes, textures, and patterns to create an exciting grouping and arrange them in a way that boosts visual appeal and interest.
Use lighting
Lighting introduces elegance and class into your space by enhancing your interior, highlighting corners, and lighting dark areas. Ambient lighting is your home's primary source of light, and it allows you to navigate your home with ease. 
Accent lighting is essential when you're doing something from close range, such as reading or typing. Illuminating your hallway with warm and welcoming lighting leaves a lasting impression on your guests besides giving your home an inviting look.
If you're looking for
contemporary classic lighting
, then visit our online store today.