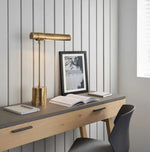 The pandemic changed how we all work, and for many people, it meant working from home. As the lockdowns continued, and employers reassessed their office spaces and remote working, it could be that working from home is now a more permanent change in your work life.
But some people, while enjoying the freedom to work from home, might be rethinking their home office space, and want to create a chic, cool, and executive-level work from home set-up. We have a look at some ideas to help you create the ideal sophisticated and suave home office.
1. Choose a colour inspired by nature
Whether you're setting up in a spare room, or making use of space in a larger room, colours that help to make you feel closer to nature are ideal for creating an atmosphere that soothes the mind and encourages creativity.
Soft, muted hugs such as sage green, or even bolder hues such as deep forest green are tranquil, and the connection to nature helps to relax the mind.
2. Add grandeur with statement lighting
There's no reason why you can't add an element of drama to your workspace. For a luxury desk and chair, why not complete the feeling with a statement chandelier above your desk, or a stylish and oversized floor standing desk lamp.
3

. Channel Mad Men with a statement chair

When tackling those days when you're constantly fighting to keep your head above water, find some joy in some noteworthy interior design. A luxury lodge chair, such as the iconic Eames office chair is ideal for channelling that Mad Men vibe and relaxing at the end of the day with an Old Fashioned.

 
4

. Combine grey and orange for a modern home office

If you're fortunate to have large windows in your home office, then darker moody colours work brilliantly against the natural light and will help draw out any lighter undertones. Orange furniture and decor can really add a pop of excitement over a grey background.

 

If you're looking for designer desk lamps in the UK, visit our online store today.