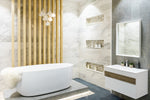 If you're considering a bathroom refit this year, then planning the lighting is an essential consideration. Keep in mind that you will want the lighting to work equally well, no matter the time of day, nor the time of year, from darkest December to sunny July. Suppliers of luxury bathroom lights have some ideas for you.
The correct lighting can have a massive impact on your bathroom, and needs to be planned as early as possible to ensure that all the key fittings and fixtures are properly illuminated. It's necessary to have adequate task lighting in shower and vanity areas, as well as sufficient ambient lighting around the bath, alcoves, and niches.
The latest smart lighting controls allow pre-programmed settings. Look out for wireless lighting control, which is installed without cables and can oversee thermostats, security and audio, if desired.
Water and electricity certainly don't mix well, and so it's important to ensure that any electrical fittings have the correct ingress protection (IP) rating according to their proximity to water. There are many guides to IP rating bathroom zones on the internet, as well as how to avoid some other bathroom design mistakes.
With the correct lighting, your room can take on different looks throughout the day, night and seasons. In most rooms, you'll likely need several types of lighting, as one central light source won't do every job.
This is easily achieved through light layering, where you make use of different types of light sources in each room to suit your needs. Don't overlook wall lights either – downlighters especially have become very popular, with an array of different styles, and are perfect for adding interest and ambience to a focal wall.
Bathroom lighting needs to able to function on many levels. The bathroom is used all throughout the day, for different uses. You will want your bathroom to be bright and functional in the morning, when it's darker outside, particularly around mirror areas, but you will also want to be able to relax and wind down in the evenings in the bath.
The colour of natural light changes over the course of the day. Colour temperature is measured in degrees kelvin (K). It's about 5,000K in the early morning, but drops to 1,850K by sunset, naturally waking us up then preparing us for sleep. So where possible, get in as much natural light as you can, then supplement it with artificial light.
You'll want good, strong ambient light for general ablutions, shadow-free, high-quality light around the mirror for shaving and make-up application, and careful use of accent lights to add interest and drama.
Bright lights pointing in every direction make a bathing space that is perfect for a relaxing soak in the tub, without the danger if being blinded and dazzled by the light. Using recessed walls for hiding spotlights and LEDs is a great use of the space.
Concealed lighting – when you can't see the source, but can still see the light it emits – is the perfect way to add atmosphere to a bathroom. It offers the chance to get much more creative with your lighting and give your room a real wow factor. Concealed lighting is architectural lighting, as it's worked into the fabric of the building, so this is definitely one you'll need to plan for.
Create an old-fashioned Hollywood dressing room feel by installing strips of bare bulbs around a mirror. Lights like these look as good turned off as they do on, when they cast a flattering, shadow-free reflection for anyone getting ready for their close-up. If bare bulbs aren't for you, consider installing a pair of elegant wall lights either side of the mirror for the same shadow-free results.
Lighting is crucial in a bathroom so always ensure that it is sufficient, particularly over the basin area for makeup and grooming. Something that could be very useful is to fit low-level lighting on a sensor for use in the middle of the night, when you want to avoid the harsh glare of main lights.
There are few areas in your home where you can use coloured lighting to such good effect, as zones are so clearly defined in the bathroom. Emphasise the zones by using different lights in each – bright and white for high-use areas, and something a little calmer, such as this blue, for the bath and shower.
Combat a windowless bathroom with lots of ambient light. Subtle led strip lighting attached to the mains looks sophisticated running under a mirrored cupboard for a clean, streamlined look, while a pair of wall lights either side will strike a classic note.
One of the most unique ways to use lighting in the bathroom is to install them into the floor. Coloured LED lights will add a really unique look and feel to the room. It's an ultra-modern style that's also quite romantic.
To help you choose the right bathroom lighting, think about who is going to be using the space. If it's a children's bathroom, then perhaps motion-sensitive lighting that switches on and off by itself is a good idea. If it's going to be used by adults, you may want mood lighting or a dimmer, and several different circuits – perhaps a low-level light in the shower, floor lighting, overhead lighting and lights around the mirror.
The lighting doesn't have to be entirely artificial either, always consider going back to basics with such simple lighting as candles for helping create a relaxing or romantic atmosphere in the bathroom. A selection of pretty candle holders on the shelves and tables can look very decorative. Never forget to extinguish the candles before you leave the room.
If you're planning your new bathroom, then visit us today for a full range of luxury and designer bathroom lighting solutions.