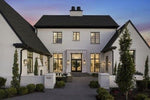 Light is one of the things many of us look for in a home. We want our spaces to feel open and airy, and we also want to have rooms that feel snug and cosy in the winter. Lighting can be used to achieve a range of effects.
There are lots of ways in which you can maximise the light in your home, both natural and artificial.
Virgin Media TV recently offered some advice on how to go about assessing and improving the light in your property.
The first thing to do is make a plan of how you want different rooms and spaces to be lit. Before you rush out to by a host of new lamps and light fittings, look at each room in turn to see what light you have coming and how you can maximise that - or where something extra is needed.
Windows are the most important consideration. Where are they? How much light do they let in? And how does this vary throughout the day?
The next thing is to consider whether there's anything you could change easily, such as the layout of your room. Think about whether you could move furniture to make better use of the light that's already coming into your space.
If the daylight from your windows is being blocked by overgrown plants in your garden outside, is it worth cutting these back a little to allow more light to flood in? If, after you've considered all these points, you still want new light fittings the next step is to think carefully about what you need the extra light for so that you position them appropriately.
Don't forget that the colour that you paint your walls will also have an impact on how light a space feels. Pure white can often feel quite clinical, so consider choosing pale tones that have some warmth to them.
If your room generally feels gloomy, steer clear of dark furniture and heavily patterned wallpaper, as this is likely to make a room feel even darker.
The news provider noted that the best way to introduce darker shades to your decor is through trimmings like cushions, throws and small furnishings because these "provide contrast without significantly sacrificing light".
Another interior design trick that's popular for bouncing light around a room is fitting mirrors. Make sure you position your mirror on a wall opposite a window for maximum impact.
When it comes to choosing artificial light fittings for your home, you need to do more than just choose a new ceiling light and leave it at that. You should be aiming for a mixture of ambient lighting (which usually comes from your ceiling light), accent lighting to highlight specific features and task lighting.
The news provider has a top tip when it comes to choosing accent lighting: "Make sure these lights are not so concentrated that they behave like spotlights."
Task lighting, meanwhile, is a must in areas like your home office and your kitchen. You need to make sure you can clearly see what you're doing, whether that's typing on your laptop or chopping up vegetables.
You don't have to neglect style in favour of function, as there are plenty of options that are both sufficiently illuminating and stylish for every room in your home.
One part of the home that can often be neglected when it comes not only to lighting but also general design is the hallway. If you have a narrow hallway, it can be difficult to work out how best to make use of this space.
Real Homes recently pointed out that having storage that works in the space is essential to help maximise it. But another thing to remember is lighting for when you come home in the evenings, or in winter when it's generally darker outdoors.
The website stated: "Ideally, choose a combination of lighting types: bright overhead downlights to create a feeling of daylight in otherwise dark hallways; characterful table lights for atmosphere only; and lights in skirting boards to light stair risers."
If you want to add serious style to your hallway (or any other part of your home) designer table lamps could be the way to go.
The news provider also suggested that if your hallway always feels quite dark, you should use all the tricks, like mirrors and painting the walls in a pale colour, to help make it feel lighter and more open.
Another thing that can work in any room, not just the hallway, is what's known as "washing the walls", according to Virgin Media TV.
The news provider explained that this technique means "splashing light across a surface, creating the illusion that the whole room is aglow".
Vertical light fittings, that send light upwards and downwards are the best option if you want to create this effect.
One thing you might want to avoid, however, is flush-mount ceiling lights after they were named as one of the most hated interior trends by designers who spoke to Forbes recently.
Kelly Aaron, chief luminary at Blueprint Lighting, explained why she dislikes these kinds of light fittings so much. "I look at these lights and I see a missed opportunity to place something sculptural, add a pop of colour or tell a little story. They are a cop out," she asserted.
But another reason to avoid them is that they're impractical, because they make it really difficult to change a lightbulb.
This is something you should think about no matter what kind of light fittings you're looking to buy. After all, you don't want to be struggling in the dark to change a lightbulb should one blow at an inconvenient time.
Another interior trend that the experts are keen to see vanish is "all white everything". CEO of Paintzen Mike Russell told Forbes that he believes painting everything white with the aim of creating a fresh, clean look "lacks originality". He added that there are plenty of colours that can feel as clean as pure white, but that "lends a little more personality".