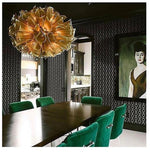 One of the easiest fixes for updating tired decor is to change out your pendant lighting fixtures. By checking out the latest pendant lighting trends and technology, you can introduce a whole new look to a room just from a change in lighting design.
Pendants are no longer just for kitchen and dining areas either, with the many different styles and configurations making them ideal for the lounge, bedroom, and even the bathroom.
There are a few simple rules to consider from an interior design standpoint beyond the correct placement and getting the right light source for a room. For example, a pendant over a kitchen island should allow for 30 inches between the bottom of the light fixture and the countertop to allow for conversations across the space and clear sight-lines.
The bathroom would typically have pendants and sconces alongside vanity mirrors, as this creates a more preferable and flattering light as compared to overhead lighting alone. Pendants can often be adjusted to varying heights and work best ay what is considered eye level, around 5 and a half feet from the ground.
Trending Styles
While a bathroom pendant might be best of the smaller side, trends for pendant styles in other rooms have shifted towards larger fixtures and statement pieces. The larger and grander the fixture, the more presence they have. Go bold and make a huge impact.
Large rectangular fixtures over a large island, pendant clusters at varying lengths or simply larger fixtures that make an artistic statement and define a space have become more popular.
Pendant styles, like other fixed lighting in the home, are dependent on personal preferences and design tastes, and fortunately, there are more than enough options from which to choose.
If you're looking for luxury ceiling lights, visit our online store today.