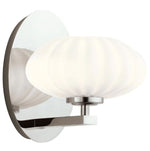 Do not underestimate the importance of accessories when designing your bathroom, as they can make a big difference in creating the ambience of the room. 
Indeed, lighting has a huge part to play in the overall look, so it should not be an after-thought. Instead, interior design expert Hardesh Chawla told Luxe Book the way lights are used, as well as the different types of lighting fixtures, can "dramatically transform" a bathroom. 
"Aside from creating a vibe, carefully planned and layered lighting can also help one visually demarcate areas within the space, while distributing illumination evenly, thus creating an illusion of space," Meenu Agarwal told the publication. 
For instance, pendant lights, wall sconces, chandeliers and hidden lights make the room feel bigger, brighter and airier. 
She added that having multiple light sources is a good idea, as this helps change the mood of the bathroom, depending on what you want at the time. 
"You can install a combination of low-level ambient lights, task lights, accent spotlights, and recessed lighting to create a scheme to suit all needs," she stated.
Instead of putting on the main light, for example, you could simply have the low-level lamps on if you want to create a soothing ambience for a relaxing bath. 
You might also want to create a statement by fitting a mirror surrounded by LED lights, or you could install light sensors for a touch of luxury.  
For inspiration for your washroom, take a look at our designer bathroom lights here.