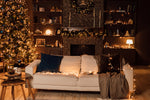 Christmas decorations are cropping up wherever you look, so it is time to think about how to make your home feel more festive, yet remain stylish. 
According to Confused.com, one-fifth of people plan to put their trees and tinsel up over the next week or so (December 1st and 10th), although 11 per cent have already stylised their home in Christmas ornaments. 
However, more than half of those surveyed said they only start to feel festive once December starts, which is why they save decorating their home till Advent begins. 
Whenever you plan to put your candles, snowmen, and nutcrackers on display, it is important to make sure the decorations you choose fit in with the rest of your décor. 
One of the favourites of all Christmas decorations has to be fairy lights, whether they are strung around the tree or wrapped around bannisters and along coving. However, this can sometimes interfere with the luxury wall lights you might already have. 
Therefore, it is wise to let your designer features steal the attention and keep other Christmas lights to a minimum. If you really need some festive twinkling, why not save these for your outdoor decorations, so it won't clash with your interior decorating?
Alternatively, you can have a few on your Christmas tree, which are the same tone as your wall lights. 
Confused.com also reminds homeowners not to overload their electrical sockets, no matter how much they want their rooms to glisten, as "this could be a fire risk".