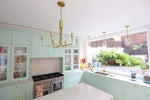 Say goodbye to dull and uninspiring lights and embrace the carefree and joyous colour palette of spring. Our range of bold, nihilist pastels and bright contrasting shades will add an instant pop of colour to any room. Choose from ceiling pendants with stunning cursive arm designs or table lamps that mimic blown glass to create an immersive and engaging atmosphere.
Our spring collection draws inspiration from the vivid highlights of the 1970s, combined with modern stripes and motifs. It's a perfect sanctuary to re-energize your soul and lay the groundwork for a more satisfying lifestyle at home. Everyone can carve out their own corner of comfort in this creative, engaging, and multi-functional setting.
Layered lighting is key to creating the perfect ambiance. Our collection includes a massive amount of variations, including recessed lighting, directed art lighting, wall sconces, and accent lights, all of which can be controlled with dimmer switches and independent settings for each light source. This allows you to achieve a wide range of moods from bright and energetic to dark and brooding, whichever suits your requirements.
At Decolight, we believe that lighting is just as important as other foundational elements of a room. Our fixtures are designed to beat the infamous flush-mounted ceiling lights or basic recessed lights found in most homes. From charming ceiling pendants to table and wall lights, we have something for everyone within this year's spring trend.
Visit our website, www.decolight.co.uk, to explore our range of bright colour lighting options and create the perfect spring-inspired interior.