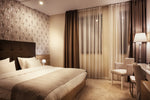 Lots of people don't like the cold weather, harsh rains and dark nights of winter, but one of the great things about this season is being able to get out of the elements and cosy up on the sofa in the warmth. 
What would make this scene perfect would be a crackling fire and cashmere throw, but if you don't have a fireplace in your home, you can still create the same comforting ambience by simply changing the lighting. 
The first thing to do is turn off your main light, as this can be too bright when you are wanting to start relaxing. However, you don't want to sit for hours in the dark either, which is why floor lamps create just the right effect, adding a warm glow to the room. 
There is reason behind this theory, as Sona Technology reports that brighter rooms can hurt our eyes after a while, and induce anxiety. 
However, yellow lighting instead is "ideal for the evening to create a relaxed atmosphere". 
It does this as it is a "fatiguing colour for the eye because of the high amount of light that is reflected". Therefore, a warm glow from a tall floor lamp or some wall lamps is ideal for the late afternoon and evening. 
For those who struggle getting to sleep, it also recommended looking at red lights, as this increases melatonin production, which causes drowsiness. 
If you fancy updating your home with luxury floor lamps in the UK, make sure you choose one that complements the rest of your furniture.