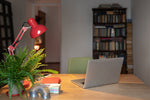 Over the last few years, most people have got used to working from home to some degree. Now instead of making a make-shift desk on the dining table, more homeowners have created their own office, decorating it with as much thought and attention as the rest of the house. 
For a really stylish home office this year, take a look at our top table lamps. 
Bright colours
To brighten up the working day, many people will redesign their study with colourful wallpaper, rugs, and accessories in 2023. 
While you might not want to invest in colour-popping furniture, you can always add strong accents with chairs, bins, and lamps. 
The Heathfield & Co Antero Teal table lamp, for instance, will inject a splash of colour to an office. 
Monochrome
In direct contrast to this trend, monochrome offices will also be big this year. Good House Keeping recommends finding a "striking moody shade" to use on the ceiling, walls, and trim, complementing it with white. 
It adds: "Striking gold lighting fixtures serve as the perfect contrast."
The Decolight Charlton gold table lamp or gold leaf table lamp are great choices, as are black and grey lights, such as the Decolight Caitlin art deco brass and glass table lamp. 
Victorian-stye interior design 
Vintage looks are always popular, but homeowners are going back even further than usual this year, as Victorian interior design is making a big comeback. Think brick floors, elaborate bookcases, and ornate pieces of furniture. 
Complement this look with a Zoffany Fiametta table lamp in mist, roses, or smoke blue. 
For more inspiration on what luxury table lamps in the UK will suit your newly decorated office, our website has a huge choice of options.