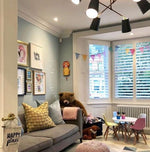 We have all realised the importance of our home environment and how it can affect our mood over the last twelve months. However, even the most beautifully decorated room won't feel right unless you have the correct balance of lighting to set it off. Here's a few tips to create the perfect ambience with your interior lights.
Treat your lighting as an integral part of your interior design scheme, rather than an afterthought. Ideally, it needs to be planned in the pre-construction phase, so bear this in mind if you are planning a renovation or extension of your home. Accommodate a generous amount of recessed wall and ceiling lights and power outlets to avoid visible cabling.
Place recessed wall lights to break up dark areas and illuminate focal points, such as the fireplace. Also consider where you will need task lighting— in a home office space, for example. Ensure all recessed lights are fitted with a dimmer switch, so you can adjust the brightness levels to suit your mood and occupation.
Pendants add an extra depth of light to your home. Traditionally, they are placed over a dining table, but recently ceiling pendant lights are moving away from the functional to become a statement design feature in themselves. Bold contemporary designs look especially stunning on high ceilings or stairwells.
Table and floor lamps are the finishing touch to your home décor, and should be as stylish as they are functional. Sculptural designs create a piece of artwork in your room even when the lamp is not illuminated. Alternatively, choose brightly coloured glass or eye-catching textures in a lamp base to contrast with a neutral room palette.
Whatever the overall ambience of your interior design, remember that your lighting scheme should enhance and harmonise with it to create a perfect luxurious living space.
If you are looking for contemporary classic lighting in the UK, visit our website today.