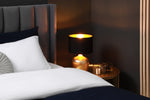 Table lamps are essential to complete your interior design scheme, bringing depth and ambience as well as supplementary task lighting. Of course, they are also a highly visible style statement and it's important that your choice complements the other design elements of the room. Here's a guide to selecting the right luxury table lamp. 
Consider where your table lamp will be
Table lamps are portable so the location is not the be or and end all, but if you have a specific space in mind this can help you make the best decision. Table lamps can be used in bedrooms, side tables in living rooms or in hallways. For bedside illumination, you may want a subtle ambient light whereas in a larger space a strong statement lamp works well.
Materials and finishes
Lamps are available in a variety of materials, textures, colours, and finishes. Consider what will work best with your existing decor scheme; maybe a contemporary and sleek metallic finish, or a sculpted ceramic base. Brushed brass, nickel or gold with silk shades will look timeless and elegant and glass and ceramics are modern and sophisticated.
A sense of proportion
The size and shape of your table lamp should be in proportion to the surface it will be displayed on. Taller lamps can add height and interest to a room but will overwhelm a smaller table. On the other hand, a small lamp on a larger table will have little impact and not bring much to the room.
Do you want it to be the focal point of your room? In this case you could choose a base with an eye-catching sculptural design that can be displayed in a hallway or side table.