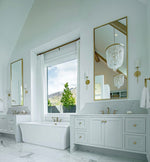 Bathroom lighting can often be an afterthought, but it's crucial to the overall look and functionality of the space. All too often a beautiful bathroom suffers from lighting that is too harsh or poorly laid out. Here are some top tips to help you add a touch of luxury with bathroom lights that are both practical and visually pleasing. 
Distribute light evenly with layers
The lighting will be most effective when it is installed in well thought out layers. Aim to have ambient lighting in the form of ceiling mounted lights; a second layer of task lighting for applying makeup, shaving, and so on; and finally accent lighting to highlight decorative features. 
This might sound like a lot of lighting, especially if your bathroom is on the smaller side, but it's particularly important in smaller bathrooms that can otherwise feel dingy. The effect of a well-planned lighting scheme can be really transformative, creating a luxurious spa feeling in the comfort of your own home. 
Staying safe
Electricals in the bathroom need special attention for obvious safety reasons. All bathroom fixtures need to have the appropriate IP (ingress protection) rating to make sure that they are sufficiently waterproof for the purpose. Ceiling lights should have an IP of at least IP44, and any elements directly above the bath or shower will need IP65 ratings. 
Any lights that will be fully submersible to provide underwater illumination will need an IP67 rating. Some types of light fitting might be best installed by a professional, particularly if there are not already existing sockets in place. 
Work with the size of the bathroom
Larger bathrooms give more scope for decorative lighting features such as sculpted pendants and chandeliers. Smaller spaces are better suited to recessed lighting or sconces. Position overhead lighting so that you can walk about the bathroom safely and use the facilities, with a light over the bath or shower, WC, basin and towel rail. 
Larger bathrooms will also benefit from some wall mounted downlights to highlight the tiles. 
Focus on task lighting
Task lighting allows you to carry out detailed tasks such as shaving and applying makeup. Mirrors that are backlit with LED lighting are highly effective and also flattering because they avoid harsh shadows.
If you have an attractive vanity unit that you want to show off, consider installing a pair of wall mounted lighting fixtures either side of a statement mirror that hangs above the basin. Complement this with an overhead light fixture to provide some cross lighting. 
Brightness and temperature
Opt for warmer tones of white for ambient lighting with a colour temperature of 2700k to 3000k. For task lighting, a brighter light of 3500k-4500k is ideal. Dimmable lights allow you to control the brightness and create the right mood, whether you want to take a long luxurious bath or have an invigorating shower to wake you up.
You may wish to integrate your lighting system with a remote digital control panel so you can adjust timings and intensity at one touch.