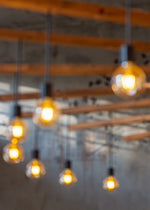 Ceiling lights in the bedroom can often be a bit of an afterthought, as we get caught up in colour schemes, bedding, and furnishings. We might pick out a stylish bedside table lamp, but what about the humble ceiling light?
Lighting design talks about layering a lot as it is the key to getting the correct ambience in the room, which is essential in the bedroom. Adding a dimmer or using smart home lighting means you can adjust the level of 'the big light' to suit the mood.
We have a look at some tips for adding a stylish ceiling light to your bedroom.
1. Retro globe designs
Ceiling lights can be either subtle and understated or a statement focal point that creates drama and sophistication. Retro designs are very much in vogue for the coming year, and there is an incredible range of design choices.
2. Consider your placement
We have been conditioned to think that pendant ceiling lights need to be centrally hung, but this is not the case. One trend for 2022 sees pairs of ceiling lights hung above bedside tables instead of centrally over the room.
3. Let the ceiling light be the statement piece
A statement ceiling light, especially in a more minimalist, Scandi-style bedroom, can make a stunning impact. Play with different textures to add a different dimension and create visual interest.
Lighting in the bedroom needs to be layered as you need enough light for daily routines as well as low lighting for winding down at bedtime. It is best not to position any light fixtures over the top of the bed where your pillows are, as this is too harsh when you are lying down.
Placing an interesting, statement light in the centre of the ceiling provides a great focal point and design interest in the room, especially if you are keeping a muted palette in the space.
If you're looking for luxury ceiling lights in the UK, visit our online store today.