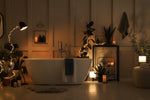 Christmas may well and truly be over, but it is very much still winter, with cold winds and frosty weather set to worsen over the next couple of months before spring sets in. That is why it is important to choose the right lights that will brighten your home in this gloomy season.
Choose warm shades
One of the easiest ways to add cosiness to your house is by choosing shades in warm colours. B&Q recommends changing your lampshades for the season with a warm filter for those cold dark days.
"Stick to reds, yellows, oranges and pinks for a snug space, perfect for those long evenings," it suggested.
Statement lights for atmosphere
Winter evenings are all about low lights and creating an intimate atmosphere, both of which can be achieved by choosing large statement pendant lights.
The DIY shop states these are "a clever way to add a new focal point to a room, and introduce softer, more atmosphere light".
More is more
As the sun sets in the late afternoon during the winter months, you'll have to add as much light to your rooms as possible. That is why it is a good idea to have lamps, wall lights and even fairy lights, as well as ceiling pendants.
Swap the bulbs for ones with a higher wattage for added brightness.
Add lanterns for cosiness
There's something very cosy about lots of candles during the, darker months. However, for a safer and more practical alternative, why not place lanterns around your home instead?
Choose ones with reflective mirrors, as this will make the most of the light in the room.
Take a look at our luxury wall lights that will be perfect for your home this winter.