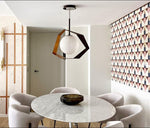 The success of any interior design scheme depends on your lighting system and it's certainly worth bearing this in mind when styling your home, so you can factor it in from the outset and know you'll be showing your house off at its best.
But it can be tricky to get it right and the needs of each room will likely be different to the last, so planning and preparation is key. To help you make sure you avoid some of the more common pitfalls, here are just a couple of lighting mistakes you might like to steer clear of!
Not layering the lights
If you only have one light source in a space, you're sure to have some corners that are simply not well lit enough. Research ambient and task lighting to help you work out how to create a lighting scheme that features numerous layers of light, based on what you use the room for.
Forgetting to light for the shadows
Shadows and where they cast themselves is something you need to think about, otherwise you might find that the room isn't as functional as you need it to be. Positioning is key here so make sure that you place your lights so the shadows fall as you like them to. This is where luxury table lamps and floor lamps really come into their own!
Too many recessed downlights
Recessed downlights can look stylish and contemporary, but overdoing it will have quite the opposite effect. Of course, they certainly have their place and are perfect for task lighting or where ceiling space is limited, but you may find that you prefer other options for your main lighting system.
Need more help with lighting design? Have a read of this useful article
on the Homebuilding & Renovating website
.