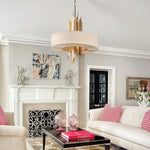 It seems as though summer has only just begun, but September is not that far away and this is an ideal time of year to visit an interior design show. These are brilliant opportunities to see first hand some of the most cutting edge interior decor displays in the world, and gain some inspiration for your own home. Here are just a few dates to put in your diary.
London Design Fair, 21-24 September
The London Design Fair (LDF) is a wider part of the London Design Festival and is open to the general public as well as trade. The LDF is held at the Old Truman Brewery, Brick Lane, Shoreditch, east London. It is held over four days, and there will be a chance to view exhibitions from some of the world's leading brands and individual designers. 
The show will feature an inspiring range of installations from furniture and lighting designers, as well as textiles and collectable pieces. There will also be the opportunity to mingle with leading architects, design journalists and influencers who can spot new trends and suggest new brands and ideas. 
In the past, the LDF has attracted up to 20,000 visitors from 77 different countries. The first two days of the fair (21 & 22 September) are trade only, but the 23 & 24 September are open to the public. There is also the opportunity to attend talks from industry experts and take part in interactive workshops. 
The National Home Building and Renovating Show, London, 22-24 September
The National Home Building and Renovating Show is held at the ExCel centre, Royal Victoria Dock, London. It is open to both trade and the general public, and is a great chance to pick up expert advice and gain inspiration for your own renovation project. 
If you are in the lucky position to be building your own home, bear in mind that the interior design should not be viewed as an afterthought. For example, lighting schemes are much easier to implement when you can specify where the wiring, switches, recessed lights, and sockets will be placed. 
There will be the opportunity to attend live talks and receive tailored advice from the professionals, with a free 15 minute one-to-one session. Not only this, but there will be hundreds of products on display from the latest in cutting edge technology to some traditional hand-crafted items. 
Grand Designs Live, NEC Birmingham, 4-8 October
This show at the National Exhibition Centre in Birmingham is based on the popular Channel 4 TV series and is presented by Kevin McCloud. There will be over 500 exhibitors covering interiors, home improvements, renovations, gardens, technology and shopping. 
There is the chance to ask the experts in one-to-sessions, and attend seminars and talks from engaging experts across the sector. There's a particular emphasis on sustainability and eco-friendly products at this year's exhibition. It's a must-see for anyone interested in interior design, renovation, or new-build projects.
Feel inspired to invest in some
contemporary classic lighting in the UK
? Please get in touch today!