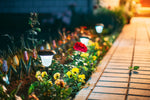 A beautifully lit garden allows you to enjoy your outside space to the fullest, whether that's socialising on summer evenings or simply appreciating the view from your window. Here are some useful tips to bear in mind when choosing lighting for your garden.
A little goes a long way
It is worth noting that there is no need to have excessive bright lights with the exception of security lighting, because in the darkness even a little light goes a long way. 
Choose which elements you want to light
Unless your garden is very small, there is no need to light all of it. In fact, areas of darkness will add depth and drama to your garden. Pick out key features that will benefit from light, such as entrances, paths and steps, and also decorative elements such as sculptures, certain plants or trees, and water features. 
Consider how these features will look in the wintertime, when you will appreciate the view during the early dark evenings. Some trees still look striking once they have shed their leaves, but some deciduous shrubs and plants will not be worth drawing the eye to.
Create an outdoor living room
Patios and terraces where you sit, dine and socialise should be considered just as you would an interior sitting room, with layers of lighting from multiple angles. Too harsh or too many lights will spoil the ambience, but an area that is dimly lit is hazardous and makes it difficult to prepare and serve food.
Wall lights fixed to the exterior of the house can provide a gentle ambient light, while overhead task lighting can be fixed to posts, gazebo frames, or even overhanging tree branches. Softer lower level lighting can be provided by table lanterns that can be placed on surfaces or hung from posts. 
Finally, decorative lighting such as fairy lights or festoon lighting can provide the finishing touch along the top of fences, garden buildings, or woven around tree branches.
If you are looking for
designer outdoor lights in the UK
, please visit our website today.