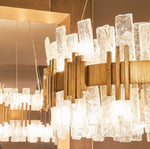 We are already past the halfway point in the year, and it is an ideal time for casting your eye on the latest trends for interior lighting. If you are planning to freshen up your interior decor in time for the darker days of autumn, it's already time to start gathering some inspiration. Here's a look at some of the most popular lighting trends of the year so far. 
Statement lighting
Lighting is no longer seen as an accessory, but is now considered to be an integral part of the design process. 2023 has unleashed the potential for a lighting fixture to really transform the look and feel of a room. A statement lighting fixture can be used to introduce a touch of grandeur or drama to a room, but it should not overwhelm the other design elements. 
If you want to make the fixture the focal point, one option is to choose a style that deliberately contrasts with the rest of the room. For example, if you have a rustic farmhouse dining room, a chandelier can look really striking as the centrepiece. If you have a minimalist living room, an oversized sculptural fixture can add interest and depth.
Very neutral colour schemes can stand bold colours in your choice of light fixture to draw the eye and provide some contrast. Conversely, if you have a lot of colour and pattern in the rest of the decor, you may wish to opt for a sleek glass or metallic fixture.
Mid century modern
The craze for all things mid century modern has been with us for a few years now, but its appeal continues to endure in 2023. To bring a touch of the mid century modern to your lighting fixtures, choose simple but elegant shapes such as the globe, the hourglass, or the cylinder for pendant lights.
Structured chandeliers made from non-traditional materials such as chrome and brass are a great option, with various takes on the iconic Sputnik chandelier now available. The modern floor lamp that is elegantly curved to provide convenient reading or task lighting is another popular choice to capture the right tone. 
The classic desk lamp from this era will never be out of style, and is both beautiful and highly practical, especially for home offices and study bedrooms. 
Lifestyle lighting
Above all, lighting schemes in 2023 are about more than following the latest interior design fashions. They are about matching the lighting to the purpose of the room, and uniting form and function. 
This means ensuring that each room has sufficient  task lighting, accent lighting, and ambient lighting that meets the needs of the people who use the room, rather than lights that have been added as an afterthought or a purely decorative element. 
Want to find more inspiration for contemporary classic lighting in the UK? Please visit our website today.