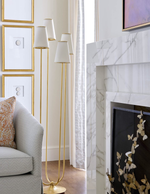 Use Tall Oversized Lamps and Floor Lamps  To Make Rooms Look Bigger 
Not everyone can afford to live in huge houses with sprawling corridors and an abundance of rooms. That is why most of us have to think cleverly when it comes to our interior design choices, so we can give the illusion of having bigger rooms than actually exist.
Watching American films has spoiled us over the years, making us believe we will one day have a massive detached house with a white picket fence. However, there's little chance of this happening in the UK where house prices are at a premium and land is far more limited than in the US.
This doesn't mean we don't have fabulous houses though – we simply know what suits our properties more, how we can highlight their best features, and how we can disguise their worst.
And if space is something your house lacks, this advice from Homewings and Habitat, published in Homes and Property, could be of help.
The experts suggested adding a tall lamp in your living room could be an effective way to make a room appear taller.
"Vertical lines are a fundamental part of giving your space a sense of height. By using a linear wallpaper print or adding a tall lamp or lengthy mirror, you're diverting your sight line away from the main body of the room to the emptier heights of the ceiling," Cornelia de Ruiter, founder of Homewings, commented.
She also suggested making the most of the ceiling height to open up space on the floor.
There are plenty of tall luxury floor lamps available these days, so why not look for some inspiration here?