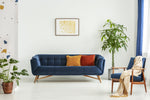 How To Nail The Mid-Century Modern Design Aesthetic for your home 
An enduringly popular interior design style for houses of all shapes and sizes is the mid-century modern look, characterised by uncomplicated, clean lines that ensure a timeless aesthetic… which means you can decorate your home in this way and enjoy the fact that it looks as fresh now as it did during the 60s, when it first became popular.
It's not just about interior design and home decor, however, and you can seek inspiration for your looks at home by looking at art, literature, furniture, architecture and accessories.
When it comes to lighting your interiors in a mid-century modern style, you'll certainly need to make some key investments in pendants, luxury ceiling lights that are eye-catching and one of a kind. Need a few design ideas? Do some reading up on modernism designer George Nelson and you'll be well on your way.
If you'd furniture you're after, you'll certainly know it when you see it, with immediately recognisable sleek lines that are vintage and glam at the same time. Look out for symmetrical lines, stunning upholstery and tapered feet if you're in the market for a new sofa. Check out the likes of Charles and Ray Eames, and Eero Saarinen for a spot of inspiration.
He was also responsible for the truly iconic sunburst and atomic clock designs, which would also make worthwhile investments if you want to really get this particular design style right.
As for colours, the mid-century look is characterised by more muted tones, so populate your home with mustards, burnt oranges, olive greens, browns and dark blues. We'd love to hear how you get on so get in touch to tell us your interior design stories today!