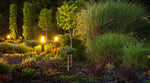 The late summer days are already getting shorter as we stand on the threshold of autumn. However this doesn't mean that we have to give up enjoying our gardens. After all, despite the gentle fading of mid summer blooms and turning leaves, our outdoor space is likely to be looking its best at this time of year as we have had all summer to get everything just right. 
Therefore it's worth investing in some luxury outdoor lights so that you don't need to give up evenings on the patio, or so that you can simply enjoy the view of the garden from the house all year round. Here are some top tips to illuminate your garden to perfection this autumn.
Safety first
First of all you should think about safety if you are going to be moving around your garden at dusk and after sunset. Low-level solar panelled pathway lights are a great choice to illuminate walkways, and they also make an attractive feature that can highlight flower beds and borders. 
If you have a lot of steps, consider adding some discreet lights to the risers to reduce the risk of trips and falls. You may also want to consider adding safety lights above doorways, cooking areas, and entrances, and installing a motion sensor light for enhanced security to the front and rear of your property.
If you want more control over your security lighting settings, it may be worth considering smart systems that allow you to remotely adjust the timings and integrate the lights with other security features. 
Aesthetic lighting
Aesthetic lighting refers to lighting that is used to enhance certain features of the garden, such as a favourite tree, a seat, a statue, or a water feature. This is best done with some subtle uplighting from below rather than with an overhead light. 
Install wall lights or lanterns if you want to highlight attractive brickwork, trellises, or hanging baskets. Use soft LED bulbs that give off a gentle warm glow rather than clear high wattage bulbs. LED bulbs may initially cost more, but they are energy efficient and should last for several years. 
Bear in mind that at night time, a little light goes a long way so always use shades and low-wattage bulbs for non-security lighting, and be considerate of causing undue light pollution to neighbouring properties. 
Decorative lighting
Decorative lighting helps to add a welcoming ambience to areas where you sit and socialise such as decking and patios. Choose soft, gentle lights that will provide enough illumination for you to enjoy food and drink with ease and see your companions, but won't be too harsh and glaring. 
Festoon lighting that can be entwined along fences and other garden structures is a popular choice to soften hard surfaces and add a touch of festivity. Storm lanterns that can be displayed on surfaces or hung from posts or pillars also bring some atmospheric charm to an outdoor setting.