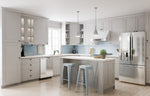 The kitchen is the heart of the home, where we gather each day to cook, eat, and socialise. The modern kitchen is not just a functional room, but also somewhere that it is likely you have invested a lot of time and energy into creating a welcoming and aesthetically pleasing space. 
Therefore it is important to get the lighting scheme just right to show it off at its best, and also to ensure that you can carry out essential tasks safely. Here are some top tips to help you choose the perfect kitchen lighting scheme. 
Consider how you use the kitchen
The first step is to think about the main ways you use your kitchen. If you are a keen cook and prepare most of your meals from scratch, then excellent overhead task lighting will be a priority for you. If you have a special architectural or decorative feature in your kitchen that you would like to draw attention to, then some accent lighting will help to show it off.
If your kitchen is a multi-purpose room where the whole family tends to gather together to chat or dine, then you will want to make sure that you have good ambient lighting to create a convivial atmosphere. Generally speaking, a well-designed kitchen will have layers of task, ambient, and accent lighting. 
If you have a dining table in the kitchen, then an overhead pendant light will be useful. Track lighting should be placed over the island or worktops. This can be augmented with under-cabinet lighting wherever you carry out food preparation. 
Consider the style of your kitchen
What is the style of your kitchen? A modern kitchen with a sleek minimalist feel will benefit from contemporary classic lighting designs, for example. If your kitchen has a rustic country cottage look, then vintage iron pendant lighting or even a chandelier will look charming. 
Kitchens with an all-white or very neutral colour scheme will benefit from a pop of colour, so you could choose a bold or brightly coloured lampshade or light fixture. Another great tip is to tie the colour or material of the light fixtures in with the rest of the kitchen. For example, if you have brass taps and towel rails, choose a light fixture with a brass sconce or shade.
Alternatively, you may want to match the light fixtures to the colour of your cupboards, blinds, appliances or work surfaces to create a sense of harmony.
Consider the overall ambience
Finally, take into account the colour temperature and intensity of your light bulbs. Cool bright lights work well for clear task lighting, while warmer whites that can be controlled by a dimmer switch provide perfect ambient light for dining, or making early morning cups of tea when you don't want a harsh bright light.