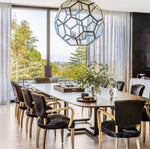 The perfect lighting for your home will showcase your interior design, helping to highlight statement pieces and create areas of interest with clever lighting design. Lighting is an important element of your interior design as it can symbolise positive energy.
Failing to be more adventurous with interior lighting is one area that can date your interiors. By choosing lights that compliment your decor, and positioning them in the right place can not only vastly improve the aesthetics of your home but also improve your overall wellbeing. Here are a few tips for placing lighting in your home.
Living room
The living room can often be the centre of the home, where the family can gather to relax, play, and be entertained. It is important that the lighting in this room is warming, and not reliant on a single bright fixture in the centre of the ceiling. Use floor lamps and table lamps to create areas of interest and provide task lighting for reading.
Dining room
The dining room can be a hub of good food and memories, gathering friends and family for meals and drinks. The lighting needs to be focused on the table rather than on the walls. A statement chandelier can be a striking addition, while candles and small decorative lights can provide an intimate sense of warmth.
Bedroom
This is a place you look forward to after a hectic day at work. Make your bedroom as comfortable as possible with the correct lights. Keep bright and warm lights separately in your bedroom. Place floor lamps with light textures and fabrics in your bedroom. The lights shouldn't reflect on the mirror if you have one in the bedroom.
If you're looking for luxury designer lighting, visit our online store today.